Art - NFT - Realtime Collaborative Tokens - OA META BLOCK
#CleanNFT #Blockchain #VariationThroughParticipation #CreativeCoding #RealtimeArchitecture #CollaborativeObjects

---
OPEN ARCHITECTURES - META BLOCK LINZ

MetaBlockLinz is a meta-participatory architectural project created by Alexander Grasser & Alexandra Parger
as part of the exhibition Meta.Space at Francisco Carolinum in Linz, Austria 2022
---
OPEN ARCHITECTURES
META BLOCK LINZ
OBJKT#768171
published 14.08.2022

by Alexander Grasser & Alexandra Parger
Commisioned by OÖ Landes-Kultur GmbH
Date: 2022.
type: space sculpture, video, participatory software.

Credits:
"MetaSpace - Visions of Space" exhibition at Francisco Carolinum, OÖ Landes-Kultur GmbH, Museumstraße 14, 4010 Linz.
Exhibition: 01.09.2022 - 08.01.2023.
Curators: Markus Reindl, Fabian Müller-Nittel
Project Managment: Petra Fohringer, Maria Pachinger
Produciton Managment: Jarno Bachheimer, Giacomo Piazzii
Director OÖ Landes-Kultur GmbH: Prof.Mag. Alfred Weidlinger


#meta #participatory #architecture #blockchain #realtime #block #open #metablock #configurator #platform #collaborativeobjects #architecturemachine #sharedownership #co #create #creativecoding #interactive
Picture ©Voggeneder

Open Architectures - MetaBlockLinz is a meta-participatory architectural project created by Alexander Grasser and Alexandra Parger as a commisioned artwork for the exhibition 'Meta.Space - Visions of Space', 01.09.2022 - 08.01.2023, curated by Markus Reindl and Fabian Müller-Nittel at the Francisco Carolinum Linz Austria, directed by Alfred Weidlinger, OÖ Landes-Kultur GmbH.

MetaBlockLinz is an open architecture, an inclusive collaborative process that encourages playful co-creation, while exploring accelerated collective content production in the Metaverse.

The project consists of three parts that aim to make this open architecture, this hybrid collective form, tangible and accessible in various contexts and spaces:

1) At the core there is a digital environment that enables real-time participatory design activities in the Metaverse, minted as non fungible token on the Tezos blockchain. It allows visitors to place MetaBlocks in a three-dimensional digital space representing the exhibition space at the Francisco Carolinum in Linz. Once inside the virtual environment visitors place these MetaBlocks collectively, they create their visions of a meta-participatory form: the 'MetaBlockLinz Community Structures'. Once 80 MetaBlocks are placed, the process is stopped and the creators have a few minutes to review their creation and explore the space before the room is reset and a new realtime design session can begin. This temporary persistence of the MetaBlocks is intended to provide an easy and open access to join the process at any time. The project is not about claiming ownership of parts in the virtual space, but rather about playful, creative, and spontaneous collective co-creation.

2) To explore the collective form in real life, a 1:1 scale architectural prototype is built at Meta.Space exhibition in Linz, based on one of the virtually designed MetaBlock Community Structures. The built structure will be selected by the artists based on structural and aesthetic criteria. This architectural prototype is built from 80 timber blocks each measuring 100 x 20 x 20 cm to create a tangible space that represents and embodies the collaborative efforts of the 'MetaBlockLinz Community Structures'.

3) The third part of the project is addressing the documentation of the process to ensure a certain persistence by capturing these moments in videos of the real-time digital design sessions as well as in the recording of the data of the 'MetaBlock Community Structures'. A documentation video is minted as a NFT and air-dropped to the participants to be digitally accessible. Furthermore this video is displayed on a videoscreen next to the architectural 1:1 prototype at the Meta.Space exhibition at the Francisco Carolinum in Linz, Austria.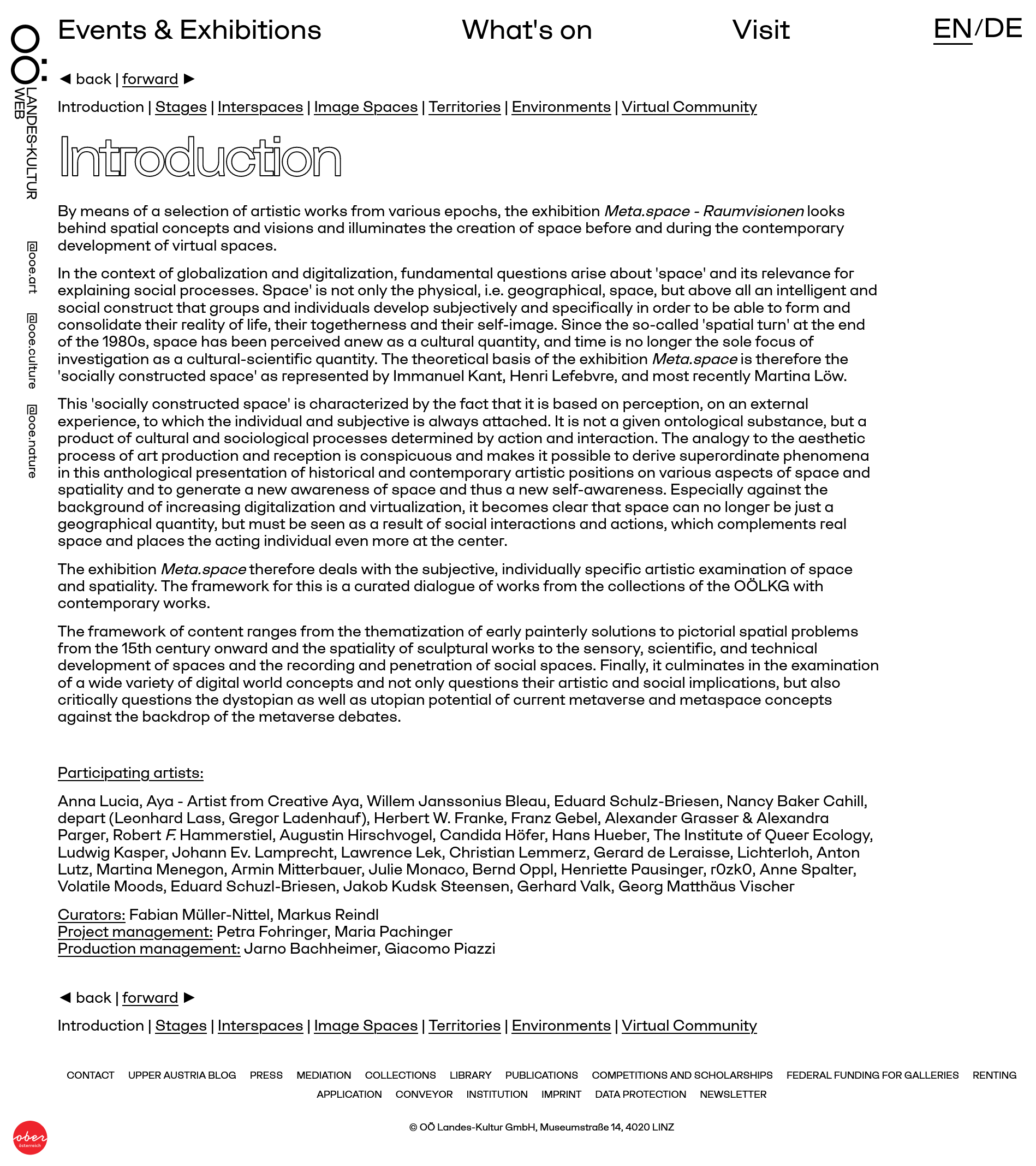 OÖ PODCAST with the curators Markus Reindl and Fabian Müller-Nittel on the Meta Space exhibition:

Content Copyright:
all rights reserved to
ALEXANDER GRASSER